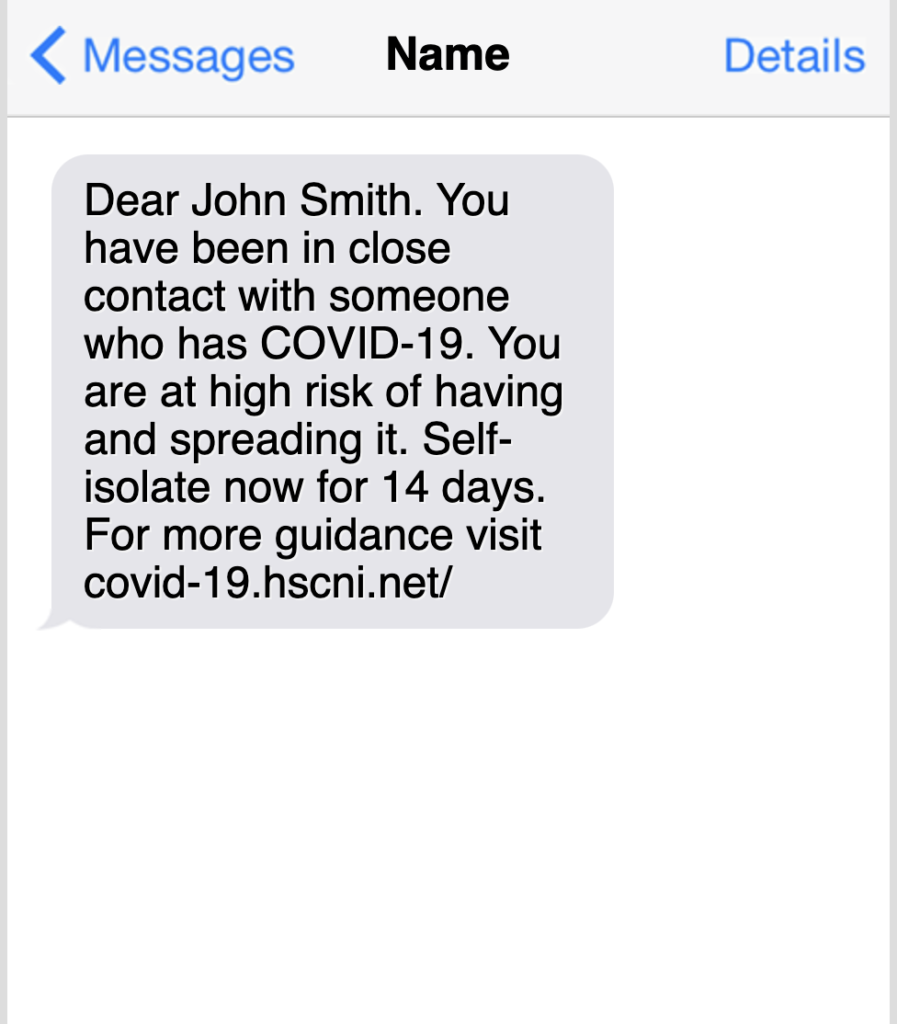 Can I trust it?
Yes.
This message has been sent from HSCNI with the sole purpose to advise you that you have been on contact with someone who has tested positive for COVID-19.
Is it spam?
No.
This message is only generated when we need to warn people that they have been in contact with someone with COVID-19 and at no other time.
You can tell it is from us as all of our messages will be from: HSCtracing
Why did I get it?
Someone with COVID-19 has given us your details only as a person who has had close contact with them and who might be at risk of catching the disease.
Did I sign up with this service?
No.
We only send messages directly to those people we have been told about.
When did this happen? (and should I warn others?)
You could have been in contact with someone up to 14 days ago. It will take time for us to find out the details of someone's infection.
The incubation period for COVID-19, which is the time between exposure to the virus (becoming infected) and symptom onset, is on average 5-6 days, however, can be up to 10 days.
If you are suffering any symptoms please use to our symptoms checker at https://check.covid-19.hscni.net/
Who told you my number?
We are unable to share any details of those who gave us your number – but rest assured that the only reason for this was to warn you that you have been in contact with someone who has since tested positive for the disease.
We will only use your details for the purpose of warning you.
Please find out more about your privacy at https://www.publichealth.hscni.net/covid-19-coronavirus/testing-and-tracing-covid-19/privacy-information
Can I use this SMS as proof I have been told to self-isolate?
Yes.
It will be accepted as written proof you have been told to self-isolate for official purposes.
It is important to keep the text and use when requested – we will not be able to send you a copy.